When life meets law...
Leave it to us.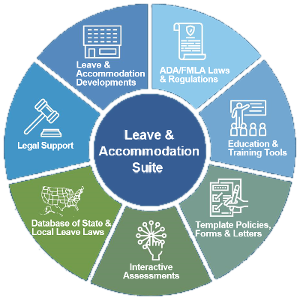 We recently added to the Leave and Accommodation Suite access to COVID-19 resources covering Paid Sick Leave, Paid Family Leave and State FMLA. These resources can be accessed from the "COVID-19" tab at the top of the page.
Welcome to the Leave & Accommodation Suite, part of Jackson Lewis P.C.'s workthruIT ® technology platform. We are excited to offer you 24/7/365 support on leave & accommodation issues.
First time user? Click here to watch the Leave & Accommodation Getting Started video.
On this site, you can access the following leave and accommodation resources:
A database of state and local leave and accommodation laws
Links to the FMLA and ADA statute, regulations, and related DOL and EEOC guidance
Jackson Lewis blog posts and articles discussing the latest leave and accommodation developments
Template policies, letters and forms to help operationalize leave and accommodation obligations
On-line assessment tools to help you analyze ADA leave requests
Targeted Just-In-Time training videos providing concise summaries of many consider complex leave and accommodation issues
On-line support to request advice from Jackson Lewis attorneys that are part of our firm's Disability, Leave & Health Management Practice Group
Thanks for being part of our growing community of users. We have built this resource to help employers respond to real-life leave and accommodation challenges. To help shape our future development efforts, please tell us what additional resources you would like us to consider adding. Together, we can improve our ability to manage important but complex leave & accommodation benefits.